After months of stress and a media circus, Plaxico Burress, former star of the New York Giants, was sentenced to prison yesterday and taken into custody at a New York courthouse.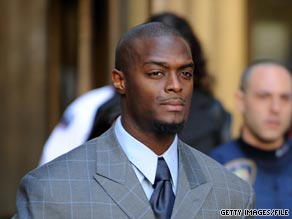 The former Super Bowl star is expected to serve a two year prison sentence after pleading guilty to one count of attempted criminal possession of a weapon. He was indicted by a grand jury a month ago and wisely cut a deal.
He could have faced a 3 ½ mandatory sentence and up to 15 years if convicted for carelessly taking a loading gun to a club last year and accidentally shooting himself. The gun was not licensed and he had to cut a deal with prosecutors to avoid a messy trial and longer sentence.
The lesson here for other stars and players to learn is when faced with a big legal or criminal problem like Burress faced you should do the quick thing that Cleveland Brown's wide receiver Donte Stallworth did after the Miami tragedy when his vehicle struck and killed a pedestrian!
I call them my 5 R's: Regret, Remorse, Respect, Responsibility and Rehabilitate yourself. Specifically, you show Regret for what you did and a great deal of Remorse. You then show Respect for the law you violated and take Responsibility for your actions. If you do these things, you have a great chance to rehabilitate yourself, your career and your name and brand in the long run.
In Florida, for example, Stallworth, another great NFL player, quickly apologized to the family of his victim to show his regret.
Stallworth also appeared remorseful for driving under the influence of alcohol. He also showed some respect towards the family of the tragic victim, Mario Reyes, and he then took responsibility by agreeing to prison time and, of course, financially settling with the family. And, indeed, some have a problem with him only getting 30 days in jail and serving less than that, as I can totally understand. But, now Stallworth, who lost his driver's license, can start the process of rehabilitating himself, his career and his life.
In essence, a horror that started in March of this year for Stallworth was prosecuted and resolved by July, less than four months later. Indeed, he was suspended by the NFL, but he did it right and can even go play in another league, if needed. The bottom line is Stallworth did it right, did the 5 R's, and got his LIFE back as I suggested for Plaxico day one last December.
Burress should have cut a quick deal last fall, saving legal fees and getting his prison sentence done and over. He would be more than a third of the way through his sentence by now and back to his wife and young son.
But, thank God, he FINALLY got it right and for other athletes and stars: It's the 5 R's: Do the first four (Show Regret, Show Remorse, Show Respect for the Law and Show Responsibility for Your Actions) so you can star Rehabilitating yourself.
I hope other players are listening now!
James L. Walker is a Stamford based author, sports and entertainment lawyer, who has represented a number of artists and athletes. He can be reached at jwalkerbook@yahoo.com.