By James L. Walker, Jr., Author, Adjunct Professor, Attorney and Businessman
jwalkerbook@yahoo.com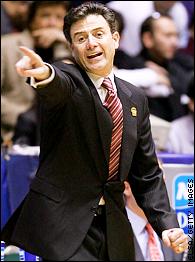 Here we go again!
Another one of our multi-million dollar pseudo celebrity Alpha males disrespecting a woman and the male-dominated media wants to focus in on the character of the woman and whether she extorted the man.
ESPN reported this morning that married celebrity basketball coach Rick Pitino admits to having an affair with a woman he met at a bar several years ago.
According to ESPN, over five years ago, Karen Cunagin Sypher and Pitino met in a bar and later that night had some sort of sexual contact. Pitino claims it was consensual, Sypher now claims it was rape.
Sypher has been indicted by a federal grand jury. She has pleaded not guilty to charges that she lied to the FBI and attempted to extort money from Pitino, if he wanted to keep the matter hush-hush.
With all of these cases, it's his side, her side and of course, the truth, which we'll probably never know.
However, what we do know is: Pitino, according to a police report obtained by the Courier-Journal newspaper in Louisville, admitted that he had sex and later gave Sypher $3,000 for an abortion and it appears to hopefully, make it all go away quietly.
We also know that Pitino most likely have a morals clause in his near $10 million dollar, multi-year contract, so he is technically in violation of that clause if the school really wanted to flex muscle and void his contract.
This is a sad tragedy on so many levels.
First, the way the story is being reported today by several media outlets seems to only emphasize a "woman trying to extort Rick Pitino" and she allegedly "lied" to the FBI.
Uh hello!
Pitino is a married man, father, role model to dozens of players and a coach of young kids!
Shouldn't the lead story be: "Married coach, who makes millions and is a role model to dozens of youths, gets drunk, picks up a woman, has sex, then attempts to cover it up with an abortion?"
This is just horrible, by any stretch.
Moreover, am I the only one thinking he needs to either voluntarily take a leave of absence from his job, step down immediately or be fired by the University?
If Pitino doesn't, you can be assured within days, the victims' rights advocates and women's groups will be all over the University of Louisville to take action.
And my hope is that the media does not impose the normal double-standard, because this is RICK PITINO, one of the legends of college basketball.
When Pokey Chatman had her alleged sexual misconduct at Louisiana State, the top female basketball coach was gone!!! She lost everything, including her $400,000 base salary, for allegedly messing with a former player and had to resign. She had won over 100 games and lost maybe 20 or so.
And, why is it when Kobe Bryant went through his sexual romp at a Denver hotel room, the media machine initially attacked the female victim, her reputation and credibility?
Kobe returned to his wife and has endorsement deals, an NBA ring and an Olympic Gold medal on his mantle since then.
Am I the only one asking, "Why is a married coach and role model like Pitino not home with his 5 kids, but at a bar and picking up women?"
One professional female said to me today, "What about the young men who come to his school from single family homes and look to him as a father figure and role model? What does he say to them now?"
Exactly!
And, my question is how does he sit in the living room of a mother on a recruitment visit and promise, "I will take care of your son…and set an example for him?" ("So long as there is no bar nearby or woman I want to sleep with on a given school night?")
Even if we find out that he did not rape her as Sypher claims or that she lied to the FBI and tried to extort him for money, the point is, Pitino put himself in this boat and horrible situation.
He is a great coach on the hardwood floor.
Pitino is in the top 10 among active coaches in the country when it comes to wins. He's 29th on the all time list, and has won over 500 games.
So now it's time to win off the floor by doing the right thing.
Do the 5 R's as I often call them: Regret, Remorse, Respect, Responsibility and then Rehabilitation.
Pitino must show Regret that this happened and great Remorse for his contribution and poor judgment.
He must Respect woman and take Responsibility for what he did, particularly paying Sypher to get an abortion.
Then, step down and get off the coaching circuit and go Rehabilitate his name, reputation and family in the midst of this PR nightmare.
If he truly understands the sorrow he has caused his players, fellow coaches, family and school, he will step down.
The school doesn't need Pitino's baggage and the daily media circus when Sypher's case potentially hits a court room and all the facts tragically come out about that night (or nights), that Pitino wishes he could take back!
James L. Walker, Jr. is an Attorney, Author, Adjunct Professor and can be found at www.jameslwalkeresq.com or contacted at www.walkerandassoc.com. Walker has represented a number of pro-athletes, major artists and sports and entertainment related businesses.